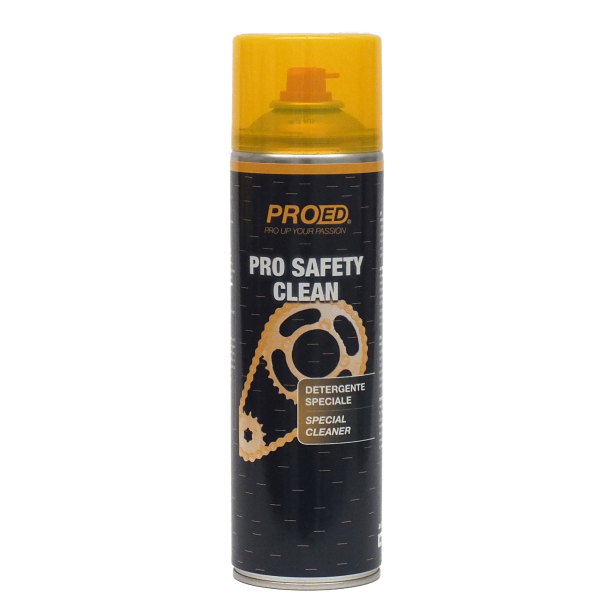 Pro Safety Clean - The Mechanical Components-Cleaner
Solvent for the Mechanical System
#doppelgänger
Delivery Time:
2-7 business days
Delivery Costs per Order:
€ 4.50 (Italy)
€ 9.90 (International)
Description
A nicely lubricated chain is one of the big priorities of many bikers. But if not done properly, the chain backfires without mercy. For example, if it had not been cleaned properly before getting its special treatment. If you lubricate a dirty chain, the oil mixes up with the dirt, obstructs the chain and your tour finds a sudden end. Worst case scenario: Your chain is totally ruined. Pro Safety Clean is our solution for a deep and highly professional cleaning of the chain. The solvent removes grease-residues immediately after applying it. Take a paper cloth and wipe over it, your job is done. Given that you wouldn't want to clean also the other mechanical parts. If you want to do that, you can, as well. Just spare brake-discs and wheels.
This is Pro Safety Clean - The Mechanical Components-Cleaner
removes grease and stubborn dirt effortlessly
reacts also with dust-particles
applicable on all mechanical components of the bike except the brake-mechanism
have a look at Maintenance Winter Sports
Application
Spray Pro Safety Clean on the surface. Wait and wipe it off with a paper cloth. Done
Attention
Avoid contact with brake-mechanism
↓Have a look at our PROSCHOOL-Tutorial-Video on how to use our mechanical components-cleaner↓