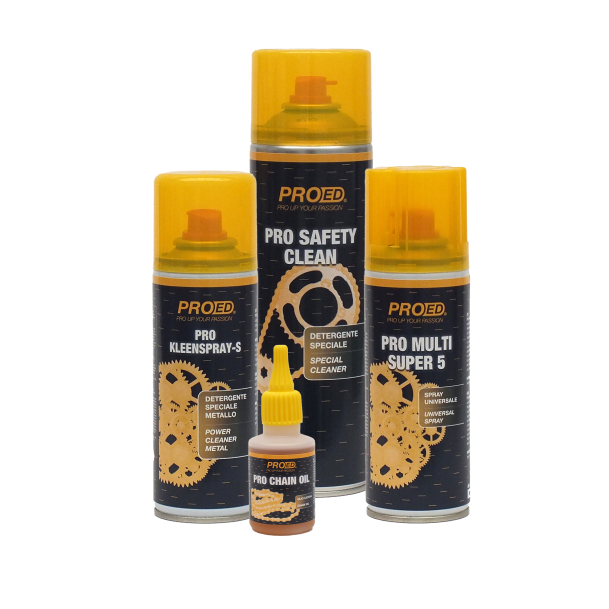 Mechanic Kit - Everything for Mechanical Components Care
The Lubricate & Protection Set
Delivery Time:
2-7 business days
Delivery Costs per Order:
€ 4.50 (Italy)
€ 9.90 (International)
Description
Clean frame? - Check! Equipment ready? - Check! So you really think you're ready? Well, let us tell you: You're not. If the bike chain, the brakes and all the other mechanical components are dirty, dry or even rusted, your innocent bike-tour can become a dangerous one way ticket. Ok, that escalated quickly but you know what we mean. Regular cleaning and, if necessary, lubrication of brakes (no lubrication there), chain and other components are indispensable. Not just for your bike's sake, though, also for yours. So we have this set called Mechanic Kit: Pro Safety Clean to clean the chain and the other components except brakes, the brake cleaner Pro Novakleen-S, Pro Multi Super 5, our universal genius to protect, lubricate and clean. And last but not least, Pro Chain Oil to deeply lubricate your chain.
That's the Mechanic Kit
Pro Safety Clean to clean all mechanical components except brakes
Pro Kleenspray-S to clean the brake system (brake discs, brake pads)
Pro Multi Super 5 to protect from rust, to superficially lubricate the chain, to clean and protect mechanical components (excl. brake system) and to protect the poles of the e-bike battery
Pro Chain Oil to deeply lubricate the bike chain
a little surprise for our Pros
Application
Check for our Tutorial-Videos on how to use the products in our PROSCHOOL